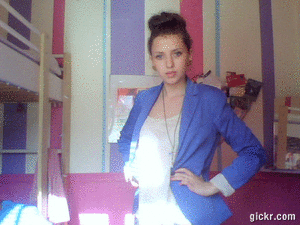 Blazer- Bershka, Blouse- River Island, Leggings- Primark, Necklace/Earrings- Forever 21
I just wanted to quickly post what I wore today into town. I got lots of amazing bargains for holiday from Zara and Accessorize. Yesterday I went to Birmingham with my best bitches, I have discovered my new love for Forever 21- which is where I bought my necklace and earrings. I absolutely adore them both!
Sorry for the awful photo quality I can't find any batteries for my camera atm. Also the sun was so bright and made dodgy lines across me.
Jeez.
I decided to make this gif on gickr.com.
Have a good weekend!
Maddy xo